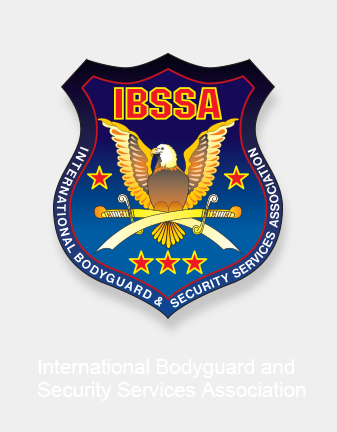 Rules of Protocol of IBSSA
---
IBSSA is the leading international federation of the world for the private security profession. It is a non- governmental, non-profit organisation with members representing over 100 countries of the 5 continents. The governing body of IBSSA is the Board of Directors:
H.M.E.H. Prince José COSMELLI, KGC (Portugal)
Knight of Grand Collar – Grand Master of the "Sovereign Order of St. John of Jerusalem,
Knights of Malta, Federation of the Autonomous Priories (KMFAP)
Honorary Founding President:
H.R.H. Prince Adan CZARTORYSKI-BORBON (Spain)
H.G. George POPPER, KGC (Hungary)
Dr. Marko NICOVIC (Serbia)
Mr. Stephen CHEE (Singapore)
Mr. Imtiaz ABDULLA (South Africa)
Earl Jerry L. BRUMLEY (USA)
Dr. Constantin BUZATU (Romania)
Chairman of the Board of Directors:
Dr. Eric Van de WALL (Netherlands)
Chairman of the Executive Committee:
Mr. Bogdan VUKOSAVLJEVIC (Slovenia)
Honorary Vice President for American continent
H.E. Dr. Joey DEMAIO (USA)
Honorary Vice President for African continent
H.E. Alh. Dr. Yahya A.J.J. JAMMEH (Gambia)

According international protocol rules the Board of Directors' members are the Ministers of the organisation. Based on this fact and also their other titles the official addressing is "His Excellency" of course in case of Honorary Founding President the addressing must be "His Royal Highness".
The above officers when representing IBSSA in any official event must be handled on the level of "Minister". They must be seated among the top VIP's and must be introduced before the host country's officials and VIP's. In case of inviting the Board members: to assure high-level transportation, accommodation and full program with security is the obligation of the host.
General rules of protocol:

Many other IBSSA officials are Ministers, Generals, Knights of Malta or holders of other high titles. In every concrete case they must receive the honour of their title or rank.
The protocol ranking:

Patron

Honorary Founding President

President

1st Vice President

General Secretary

Vice Presidents

Honorary founding members

Honorary members

Chairman of BoD

Chairman of the EC, Honorary President of IBSSA ISF, Executive President of IBSSA ISF

Vice-chairmen of the EC, General Secretary of IBSSA ISF, Vice-presidents of IBSSA ISF

EC members, Generals

International position holders

Country representatives

Other position holders
If the above rules are not guaranteed IBSSA officers should refuse their participation at the respective event!
Search
---
My IBSSA
- Sign in or Register
---
---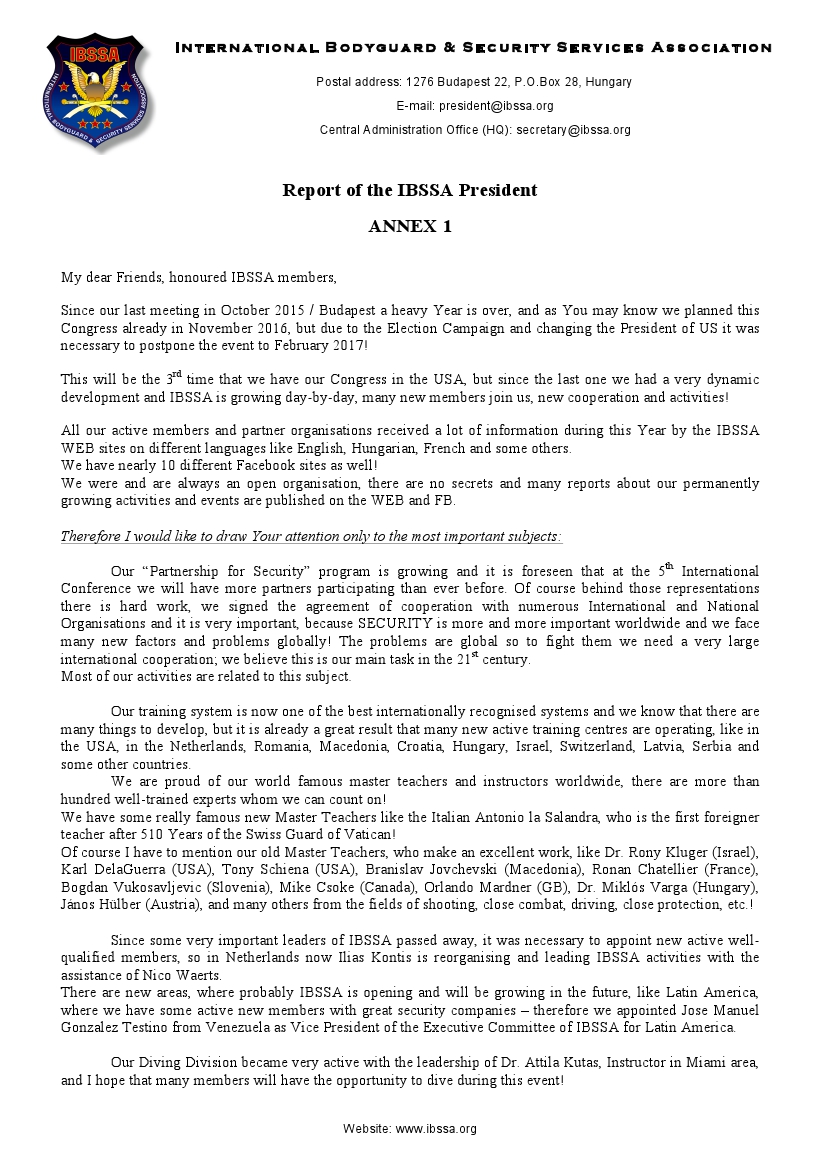 My dear Friends, honoured IBSSA members, Since our last meeting in October 2015 / Budapest a heavy Year is over, and as You may know we planned this Congress already in November 2016, but due to the Election Campaign and changing the President of US it was necessary to postpone the event to February 2017!
This will be the 3rd time that we have our Congress in the USA, but since the last one we had a very dynamic development and IBSSA is growing day-by-day, many new members join us, new cooperation and activities!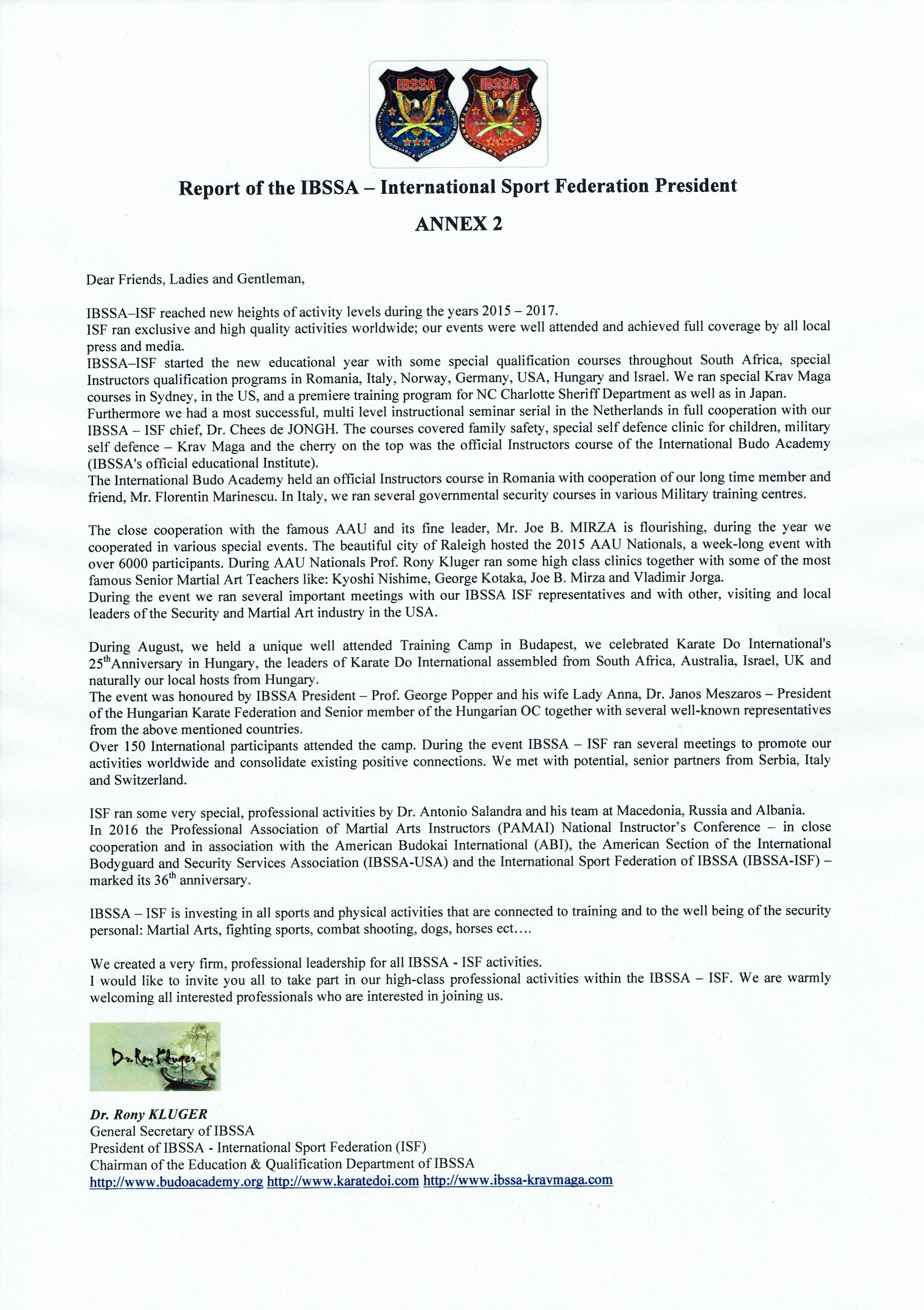 Dear Friends, Ladies and Gentleman,
IBSSA–ISF reached new heights of activity levels during the years 2015 – 2017.
ISF ran exclusive and high quality activities worldwide; our events were well attended and achieved full coverage by all local press and media. IBSSA–ISF started the new educational year with some special qualification courses throughout South Africa, special Instructors qualification programs in Romania, Italy, Norway, Germany, USA, Hungary and Israel.
We ran special Krav Maga courses in Sydney, in the US, and a premiere training program for NC Charlotte Sheriff Department as well as in Japan.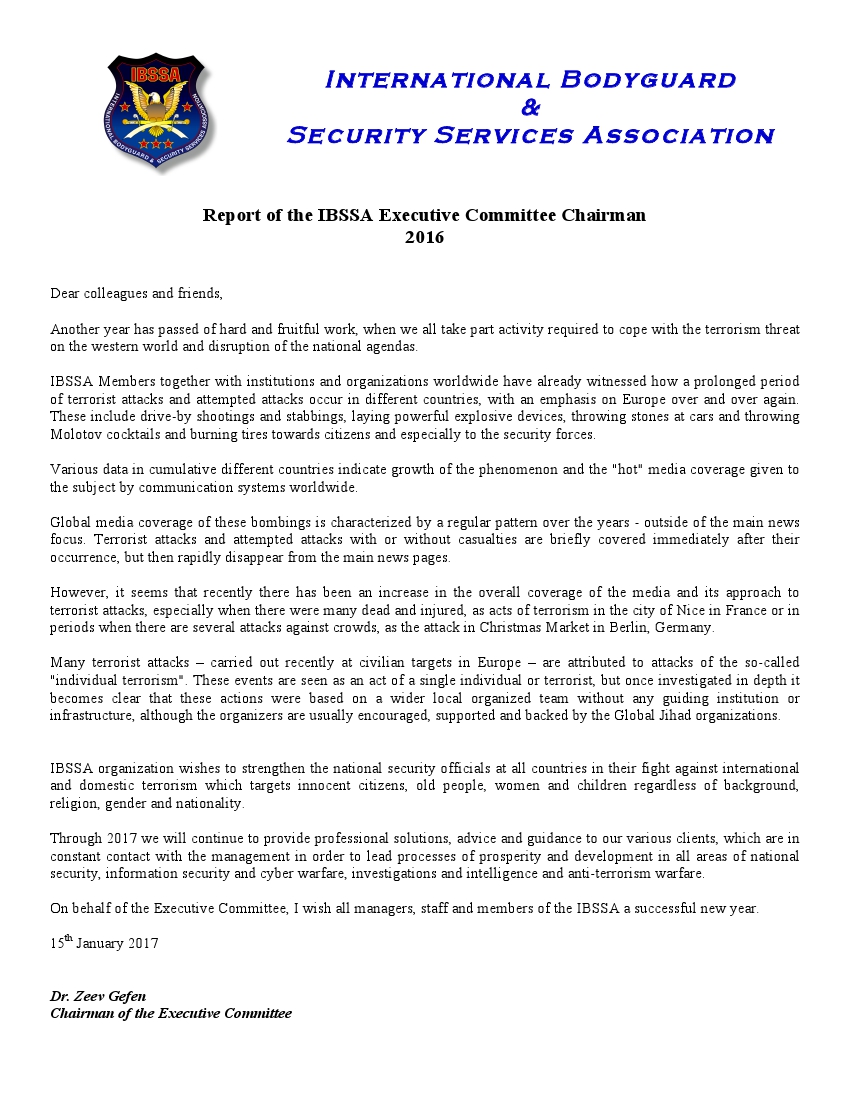 Dear colleagues and friends‫,
Another year has passed of hard and fruitful work, when we all take part activity required to cope with the terrorism threat on the western world and disruption of the national agendas‫. IBSSA Members together with institutions and organizations worldwide have already witnessed how a prolonged period of terrorist attacks and attempted attacks occur in different countries, with an emphasis on Europe over and over again.
These include drive-by shootings and stabbings, laying powerful explosive devices, throwing stones at cars and throwing Molotov cocktails and burning tires towards citizens and especially to the security forces‫.
---