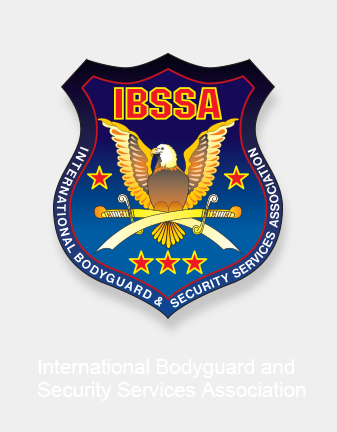 List of Honorary Members of IBSSA
---
Mr. Ali ACHOUI

Honorary Member

Mr. Janis ADAMSONS

Honorary Member,
Former Minister of Interior of Latvia

Mr. Anghel ANDREESCU

Honorary Member,
Chief Quaestor of Romania

Mr. Nicu ANGHEL

Honorary Member,
Secretary of State of Romania

H.H. Raja Sulong Hizahar Bin Raja BAZIAN

Honorary Member,
Prince of Malaysia

Dr. Róbert J. BEDROS

Honorary Member,
Chief of Law Enforcement Hospital

Dr. Péter BENDE

Honorary Member,
Brigadier of the Fire Department

Col. Adrian BICLESAN

Honorary Member,
Arad Gendarmerie

Dr. Béla BLASKÓ

Honorary Member,
Former President of Police Academy

Mr. Karlis BOLDISEVICS

Honorary Member

Sir Abel de Lacerda BOTELHO

Honorary Member,
International Coordinator for BRAZIL

Dr. Ilie BOTOS

Honorary Member,
Public - Prosecutor of Romania

Dr. István BÖKÖNYI

Honorary Member,
Former Chief of Hungarian Penal Authorities

Dr. Anthony Demetrius BROWN

Honorary Member

Dr. Andris BUIKIS

Honorary Member

Prof. Eugenio Roberto CALIGIURI

Honorary Member,
Honorary Consul for Equatorial Guinea to Romania

Dr. Tudor CEARAPIN

Honorary Member

Alh. Kebba S. CEESAY

Honorary Member,
President of the Gambian Section of IBSSA

Mr. Juris CELMINS

Honorary Member

Mr. Sidi Jamal Alami CHAWFI

Honorary Member

Mr. Che Cheng CHIANG

Honorary Member

Mr. Artur CHULITSKY

Honorary Member

Mr. Ioan Zaharie CIORBA

Honorary Member

Sir José Manuel Costa Da Veiga COSMELLI

Honorary Member,
International Coordinator for Portuguese Speaking Countries

Mr. Yosef CROITORU

Honorary Member

General Dr. László CSEREKLEI

Honorary Member

Mr. Balázs CSIKÓS

Honorary Member,
International Coordinator for AUSTRALIA

Mr. Napoleon Lim CUATON

Honorary Member,
Regional Chief of Criminal Investigation Office

Dr. h.c. Béla DANIELISZ

Honorary Member,
President of the General Assembly of Budapest

Dr. Valér DÁNOS

Honorary Member,
Director of MoI Law Enforcement and Crime Prevention Institute

Mr. Peter DEDICH

Honorary Member

Sir Dr. Joey DEMAIO

Honorary Member

Dr. László DERCE

Honorary Member

Brig-gen. Zoltán DÖMÖTÖR

Honorary Member

H.E. Aleksandar DRAGICEVIC

Honorary Member

H.E. Rade DROBAC

Honorary Member

Dr. István F. ELEK

Honorary Member

Dr. István FODROS

Honorary Member,
Honorary General Consul of Sao-Tome and Principe

Mr. Dmitry FONAREV

Honorary Member,
President of NAST Russia

Mr. Evan D. FRANKEL

Honorary Member

Mr. Jean FRENETTE

Honorary Member,
Master of Martial Arts

Prof. Rocco GIACALONE

Honorary Member

Mr. Gábor GÖNCZI

Honorary Member

Chief Inspector Ioan HANDRA

Honorary Member,
Arad Border Police

Mr. Tahir HASANOVIC

Honorary Member

Dr. Nasser HEYDARIAN

Honorary Member

Mr. Leonard C. HOLIFIELD

Honorary Member

Vitéz Ferenc HOLL

Honorary Member

Dr. Paul G. HÖGLUND

Honorary Member,
Chairman of Quality Control Department

Prof. Albert IGNATENKO

Honorary Member

Mr. Viktor Ivanovich ILUKHIN

Honorary Member

Mr. Dan IOSIF

Honorary Member

Mr. Imre IVÁNCSIK

Honorary Member

Alh. Dr. Yahya A.J.J. JAMMEH

Honorary Member
Honorary President for WESTERN AFRICA, President of the Republic of The Gambia

H.E. Zeljko JANJETOVIC

Honorary Member

Mr. Anatolijs JERUMANIS

Honorary Member
Advisor of the President of Latvia

Mr. Janis KOKAINIS

Honorary Member

Dr. István KOMÁROMI

Honorary Member,
Police General, Former Chief of Public Relations of Ministry of Interior

Mr. Ádám S. KOVÁCS

Honorary Member

Mr. István KOVÁCS

Honorary Member

Mr. Edmund KOLBY

Honorary Member

Mr. Horst KRIECHBAUM

Honorary Member,
Honorary President for AUSTRIA

Mr. Gábor KUNCZE

Honorary Member,
Former Minister of Interior of Hungary

Dr. Daniele LAZZARINI

Honorary Member

Dr. Imre LÁSZLÓ

Honorary Member

Colonel Grigoriy Ph. LESHCHENKO

Honorary Member

Mr. Robert LYONS

Honorary Member

Dr. Maria Teresa Costa da MACEDO

Honorary Member,
President of Mission Europa

Mr. Florentin M. MARINESCU

Honorary Member,
IBSSA Master Teacher

Mr. Julian MEDREA

Honorary Member

Conte Salvatore Olivari de la MONEDA

Honorary Member

Sir Gerardo MOLENDINI

Honorary Member

Mr. Idriss NGARI

Honorary Member,
Minister of Home Affairs and Defence

Mr. Garri V. NIKOLAENOK

Honorary Member

H.E. Aleksandar NIKOLIC

Honorary Member,
Chairman of the Board of Governors of EWB

Mr. Schaudi NISCHKY

Honorary Member,
Anti-terror special advisor

Mr. Bekim NOKSHIQI

Honorary Member

Mr. Takemasa OKUYAMA

Honorary Member

Prof. Negoslav P. OSTOJIC

Honorary Member,
Executive Director of ECPD

Mr. Vladimir Vcevoldovich PANCHENKO

Honorary Member,
General Director of Goskoncert Russia

Mr. Adrian PAUL

Honorary Member

Dott. Col. Ermanno PATRIZIO

Honorary Member,
Colonel of Military School

Dr. Nicholas V. PERRICONE

Honorary Member

Dr. Sándor PINTÉR

Honorary Member,
Minister of Interior of Hungary

Mr. József POZSONYI

Honorary Member,
Police colonel

Prof. R. Frank PUCELIK

Honorary Member

Mr. Sándor PUHL

Honorary Member

Mr. Dusko RADONJIC

Honorary Member

Mr. Jean RIES

Honorary Member,
General Secretary of Guardian Europe

Dr. Steven Joel ROENSCH

Honorary Member

Ms. Cynthia ROTHROCK

Honorary Member

H.E. Nurbakh RUSTEMOV

Honorary Member

Mr. István SABJANICS

Honorary Member,
Police General

Dr. Shraga SADE

Honorary Member,
Psychology Department

Dr. Antonio M. la SALANDRA

Honorary Member

Mr. Luis Baguena SALVADOR

Honorary Member,
Honorary President of IBSSA International Sport Federation

Mr. Florin SANDU

Honorary Member

Mr. Anthony SCHIENA

Honorary Member

Colonel Valeriy U. SEREDENKO

Honorary Member

Senator Andor SHELBY

Honorary Member

Mr. Gordan SIBIC

Honorary Member

Count Silverio SIGNORACCI

Honorary Member

Mr. Viesturs SILENIEKS

Honorary Member

Mr. Gad SKORNIK

Honorary Member

Mr. Igors SOLOVJOVS

Honorary Member

Mr. Ion STEFANUT

Honorary Member

Mr. Eddie STONE

Honorary Member

Dr. György SUHA

Honorary Member

Dr. László SVÉD

Honorary Member,
Director of Military Medical Services of Hungary

Prof. Denis SZABO

Honorary Member,
Former President of World Federation of Criminology

Vitéz György SZILAJ

Honorary Member

Mr. Attila SZILÁGYI

Honorary Member,
IPA Hungarian Section

Chief Insp. Alexandru TANCO

Honorary Member,
Arad Police Inspectorate

Mr. David TEVZADZE

Honorary Member,
Minister of Defence of Georgia

Mr. Pham Xuan TONG

Honorary Member

Mr. Lajos VAJDA

Honorary Member

Mr. Aivars VALCIS

Honorary Member,
Chief of Criminal Police of Riga

Vitéz Gyula Pál VÁRKONYI

Honorary Member

Dr. Alexandrs VILISONS

Honorary Member,
Doctor of Military Sciences

Prof. Sz. A. VINOGRADOV

Honorary Member,
Vice-President of the Russian Security, Protection and Law Enforcement Academy

Mr. Anatoliy F. YEFIMENKO

Honorary Member
Search
---
My IBSSA
- Sign in or Register
---
---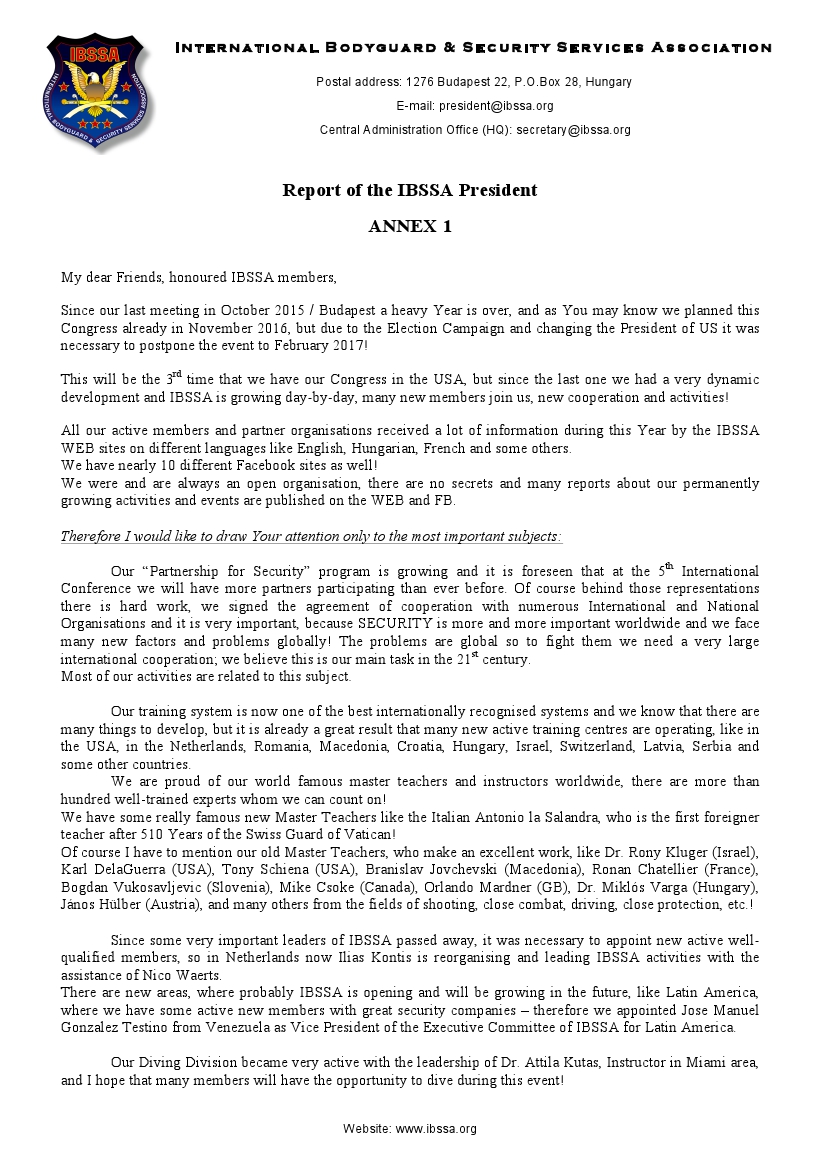 Dear Friends, Ladies and Gentleman,
IBSSA–ISF reached new heights of activity levels during the years 2015 – 2017.
ISF ran exclusive and high quality activities worldwide; our events were well attended and achieved full coverage by all local press and media. IBSSA–ISF started the new educational year with some special qualification courses throughout South Africa, special Instructors qualification programs in Romania, Italy, Norway, Germany, USA, Hungary and Israel.
We ran special Krav Maga courses in Sydney, in the US, and a premiere training program for NC Charlotte Sheriff Department as well as in Japan.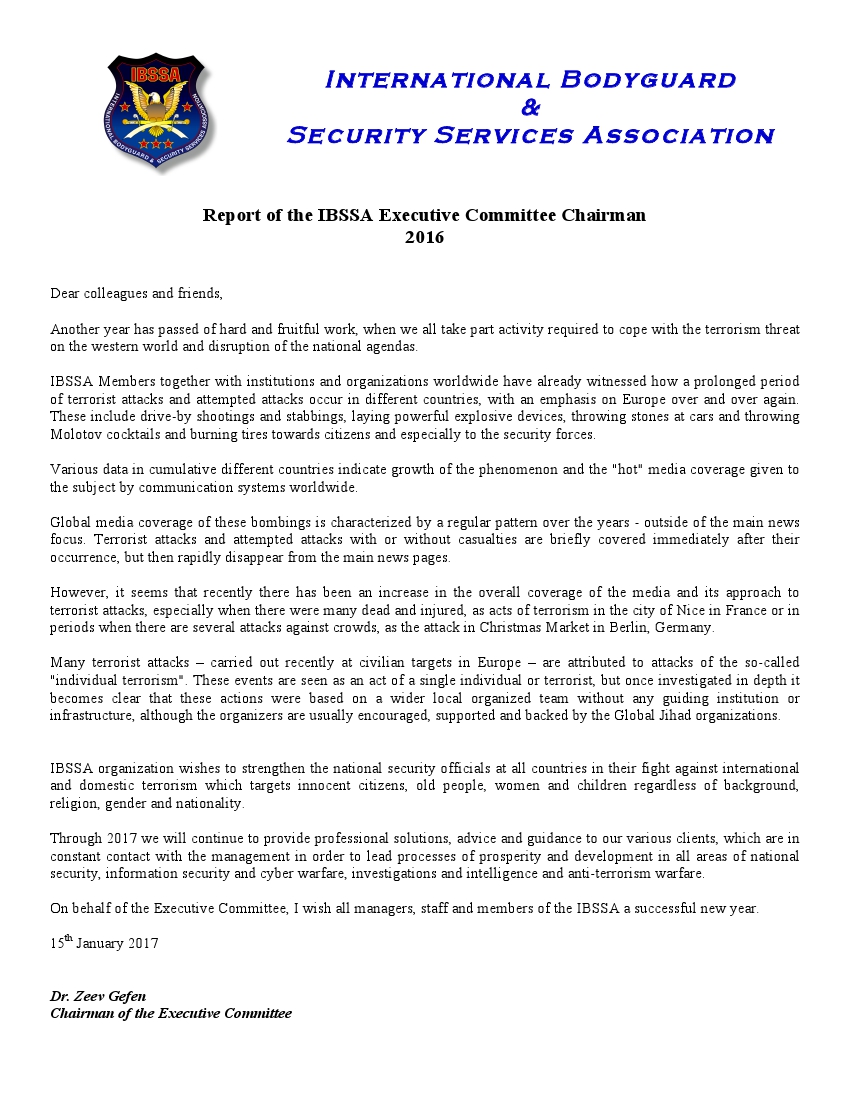 Dear colleagues and friends‫,
Another year has passed of hard and fruitful work, when we all take part activity required to cope with the terrorism threat on the western world and disruption of the national agendas‫. IBSSA Members together with institutions and organizations worldwide have already witnessed how a prolonged period of terrorist attacks and attempted attacks occur in different countries, with an emphasis on Europe over and over again.
These include drive-by shootings and stabbings, laying powerful explosive devices, throwing stones at cars and throwing Molotov cocktails and burning tires towards citizens and especially to the security forces‫.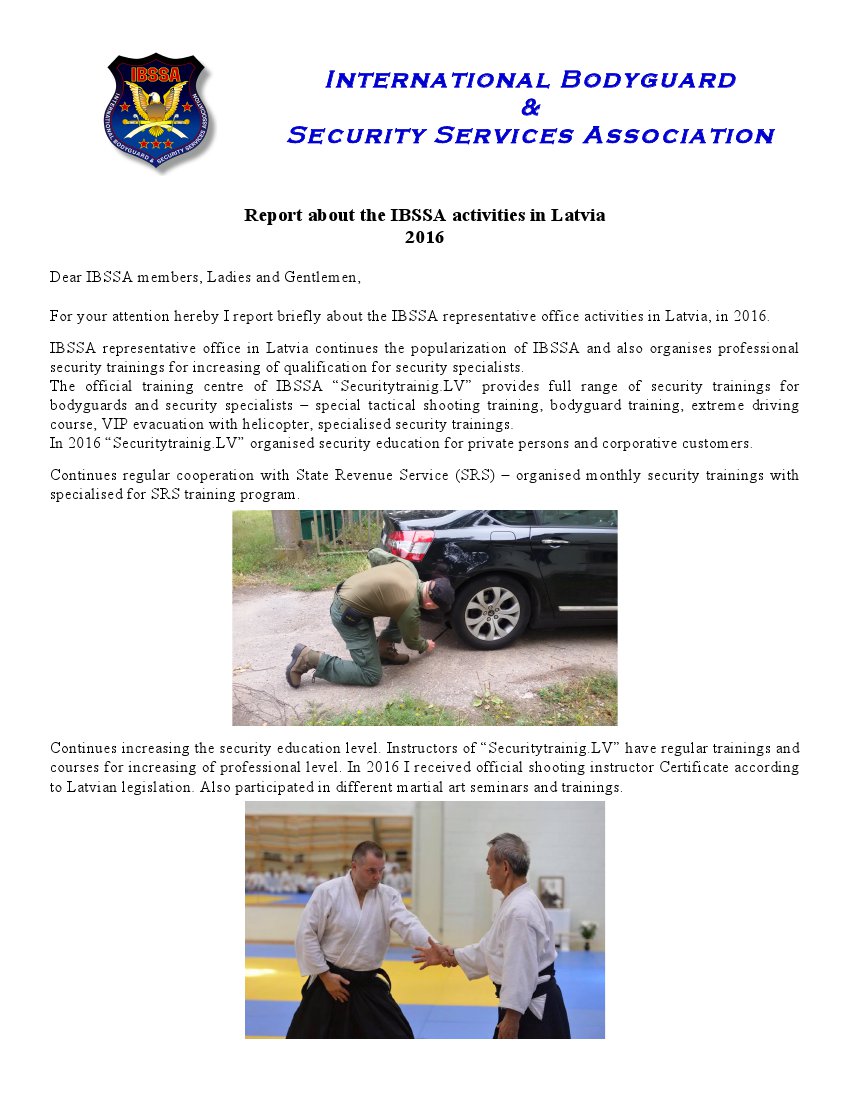 Annual Report about the activities of IBSSA in Latvia, Macedonia and Mexico
Latvia
---