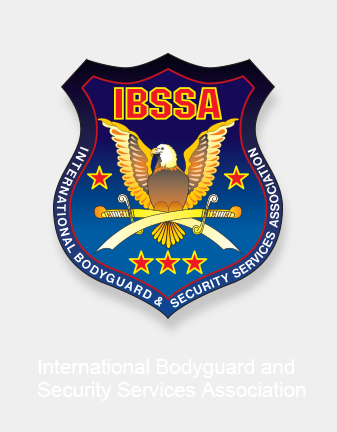 Annual Report about the activities of IBSSA in Latvia, Macedonia and Mexico
---
Latvia
Dear IBSSA members, Ladies and Gentlemen,
For your attention hereby I report briefly about the IBSSA representative office activities in Latvia, in 2016.
IBSSA representative office in Latvia continues the popularization of IBSSA and also organises professional security trainings for increasing of qualification for security specialists. The official training centre of IBSSA "Securitytrainig.LV" provides full range of security trainings for bodyguards and security specialists – special tactical shooting training, bodyguard training, extreme driving course, VIP evacuation with helicopter, specialised security trainings. In 2016 "Securitytrainig.LV" organised security education for private persons and corporative customers. ...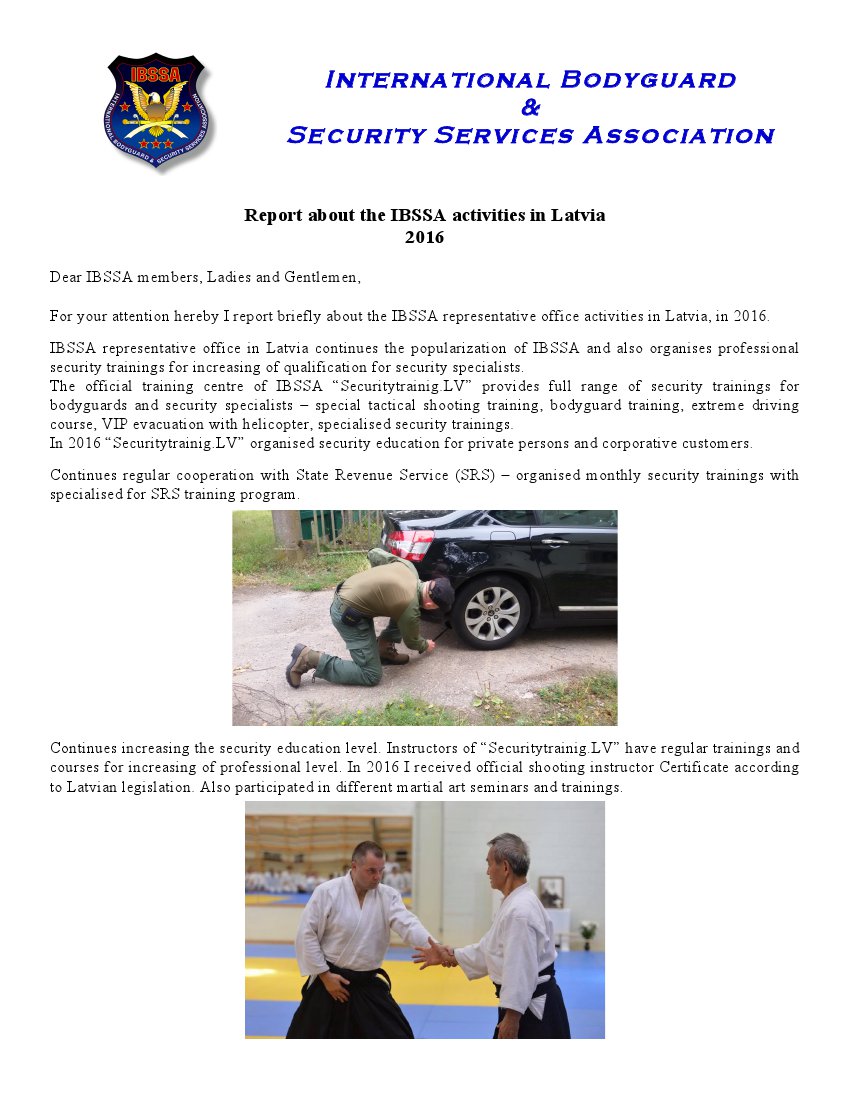 Macedonia:
Dear President, Dear IBSSA Members, Ladies and Gentlemen,
The main activity of IBSSA MACEDONIA – through its official training centre during the year 2016 – was the organisation of professional security trainings and the popularisation of IBSSA in the region. We provided and our students successfully finished the following courses: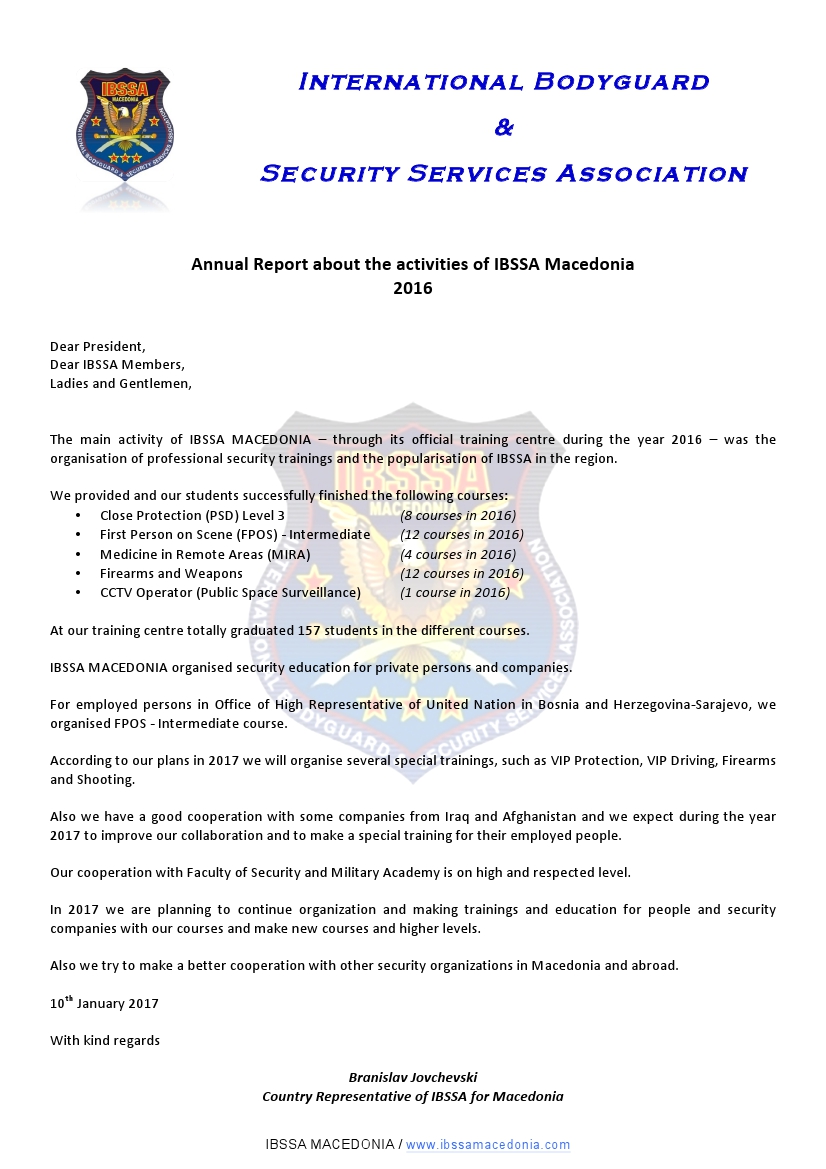 Mexiko:
Dear IBSSA members, Ladies and Gentlemen,
Hereby I report briefly about the recent activities and future plans of the newly established IBSSA representative office in Mexico in 2016. We started our activities at the end of August upon reception of my official appointment as Country Representative in Mexico.
I invited and proposed two of the most prestigious bodyguard instructors in Mexico: Mr. Gonzalo Senosiain (specialized in fire arms) and Mr. Pablo Ortiz-Monasterio (specialized in security driving) to join IBSSA and qualify as official Instructors of the association. So last year we formed IBSSA Mexico executive committee, we have registered the official IBSSA training centre in Mexico, and all three of us have been qualified and accepted as IBSSA official instructors. ....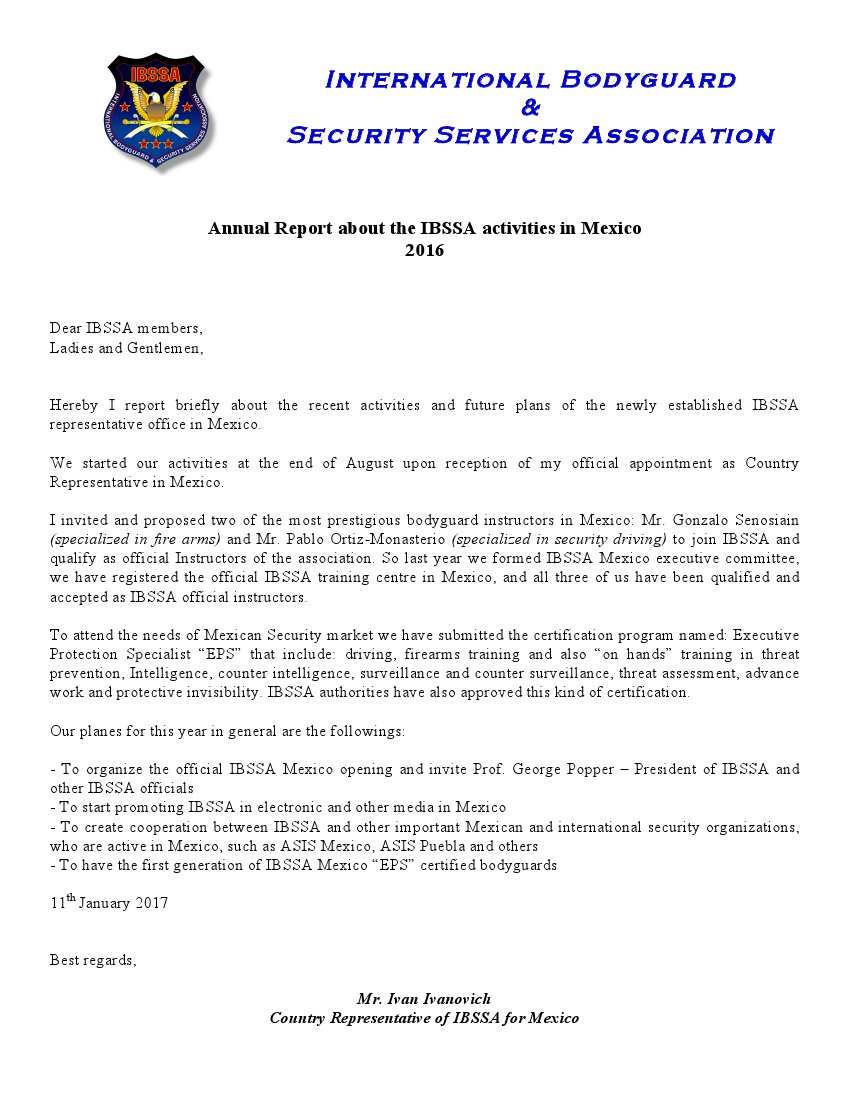 Search
---
My IBSSA
- Sign in or Register
---
---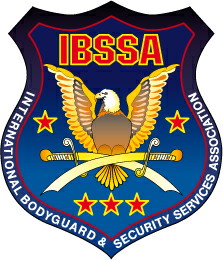 On the 21st March 2018, the XXI. Congress of IBSSA, the 6th "Partnership for Security" International Joint Conference of IBSSA – IPA (International Police Association) – IAPA (International Auxiliary Police Association) together with the Award Ceremony were held at the Conference room of Metropolitan Hotel in Tel Aviv, Israel with the participation of appr. 60 members from 4 continents, representing 25 national and international organisations. Numerous security officials of the region also attended the Conference.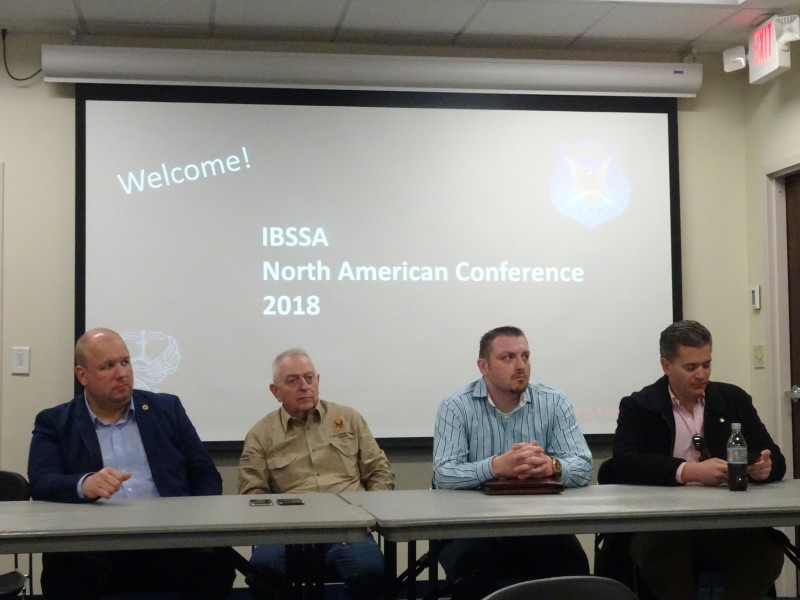 During the last part of January 2018, the inaugural meeting of the IBSSA North American Conference took place in Charlotte, North Carolina, USA. Specifically convened to provide a networking platform for our representatives and members in the United States, Mexico, Canada and the Caribbean, this two-day event proved the strength and versatility of IBSSA in this significant global region.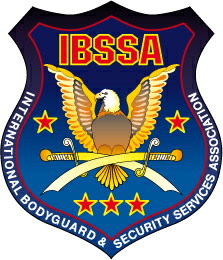 Dear IBSSA Members, members of our partner organizations,
Dear Friends,
To avoid any misunderstandings, we hereby officially notify everyone that the "European Security and Bodyguard Service Association" is not the European section of IBSSA, they have nothing to do with our association!
They have never asked for the approval of IBSSA to their trainings or other programs! Neither have they cooperation agreement with us! ...
---