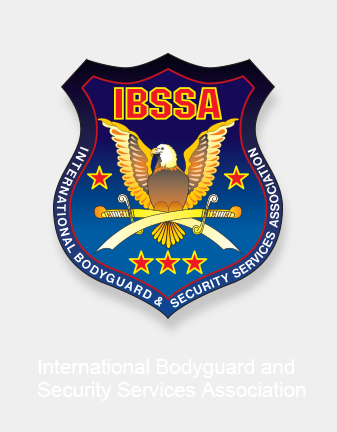 Annual Report about the activities of IBSSA in Latvia, Macedonia and Mexico
---
Latvia
Dear IBSSA members, Ladies and Gentlemen,
For your attention hereby I report briefly about the IBSSA representative office activities in Latvia, in 2016.
IBSSA representative office in Latvia continues the popularization of IBSSA and also organises professional security trainings for increasing of qualification for security specialists. The official training centre of IBSSA "Securitytrainig.LV" provides full range of security trainings for bodyguards and security specialists – special tactical shooting training, bodyguard training, extreme driving course, VIP evacuation with helicopter, specialised security trainings. In 2016 "Securitytrainig.LV" organised security education for private persons and corporative customers. ...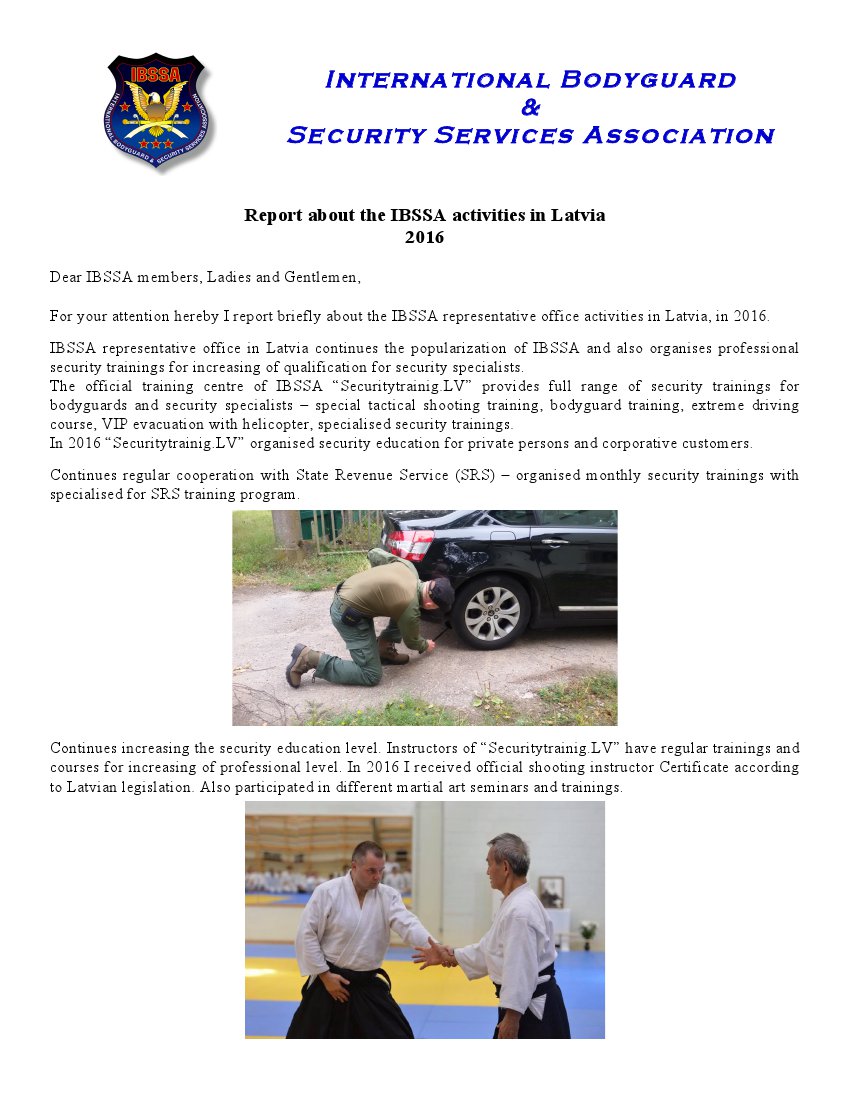 Macedonia:
Dear President, Dear IBSSA Members, Ladies and Gentlemen,
The main activity of IBSSA MACEDONIA – through its official training centre during the year 2016 – was the organisation of professional security trainings and the popularisation of IBSSA in the region. We provided and our students successfully finished the following courses: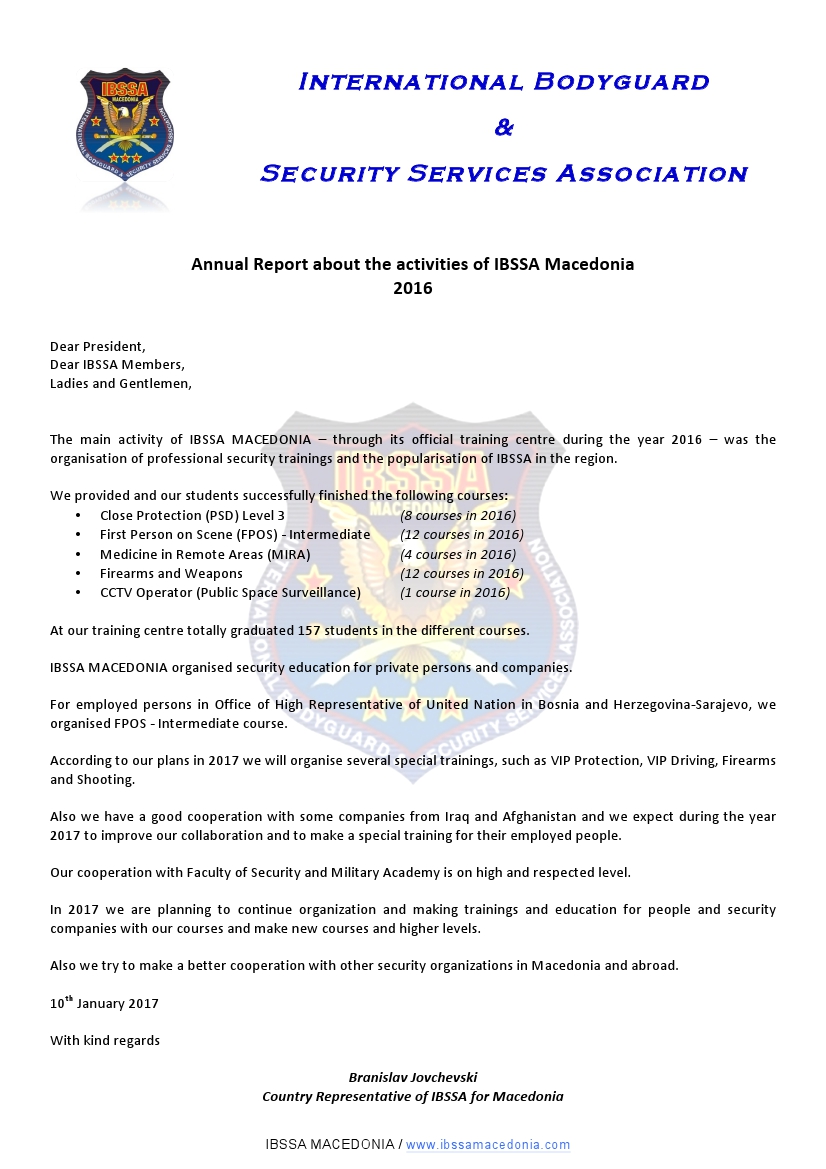 Mexiko:
Dear IBSSA members, Ladies and Gentlemen,
Hereby I report briefly about the recent activities and future plans of the newly established IBSSA representative office in Mexico in 2016. We started our activities at the end of August upon reception of my official appointment as Country Representative in Mexico.
I invited and proposed two of the most prestigious bodyguard instructors in Mexico: Mr. Gonzalo Senosiain (specialized in fire arms) and Mr. Pablo Ortiz-Monasterio (specialized in security driving) to join IBSSA and qualify as official Instructors of the association. So last year we formed IBSSA Mexico executive committee, we have registered the official IBSSA training centre in Mexico, and all three of us have been qualified and accepted as IBSSA official instructors. ....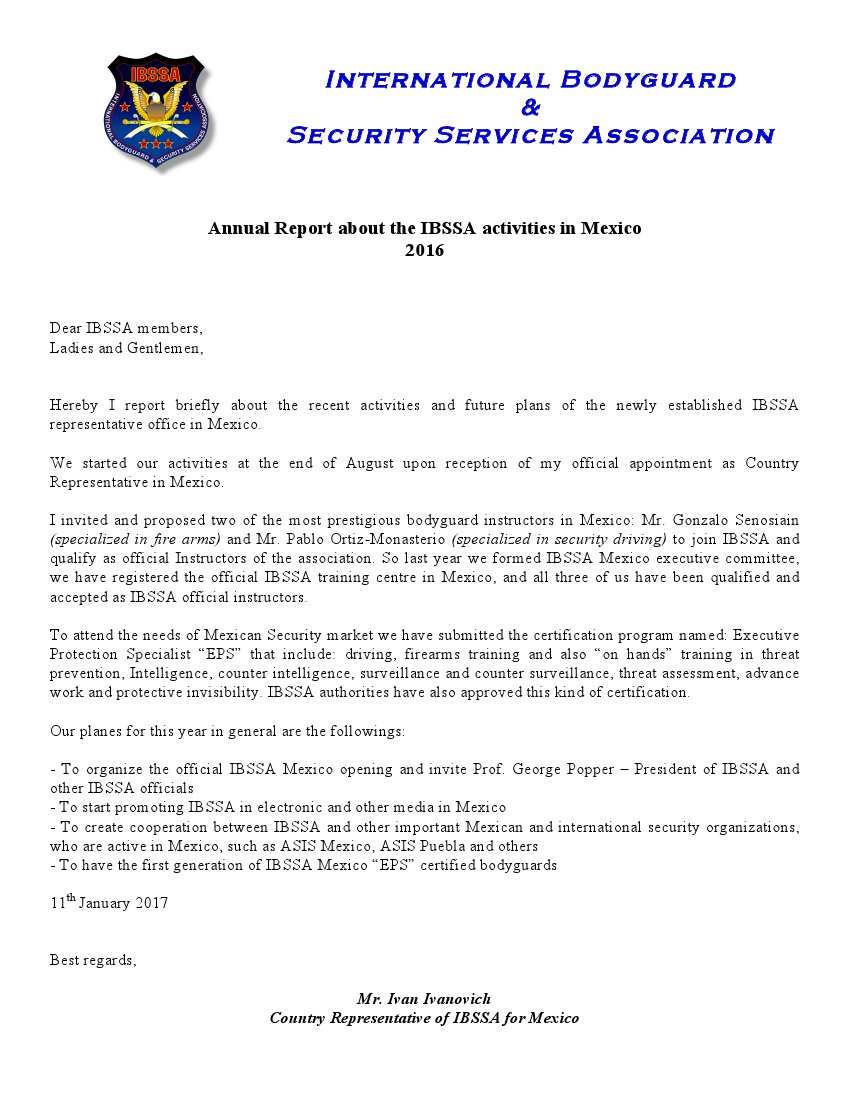 Search
---
My IBSSA
- Sign in or Register
---
---
IBSSA (International Bodyguard and Security Services Association) is the leading international NGO of the organisations, companies and individuals in the civilian security sector in the world. This position is due to its global presence, its top professional experts, its international acknowledgement, its authentic and professional operation and last but not least to its excellent communication. In its strategy the internationally approved educational system plays an important role.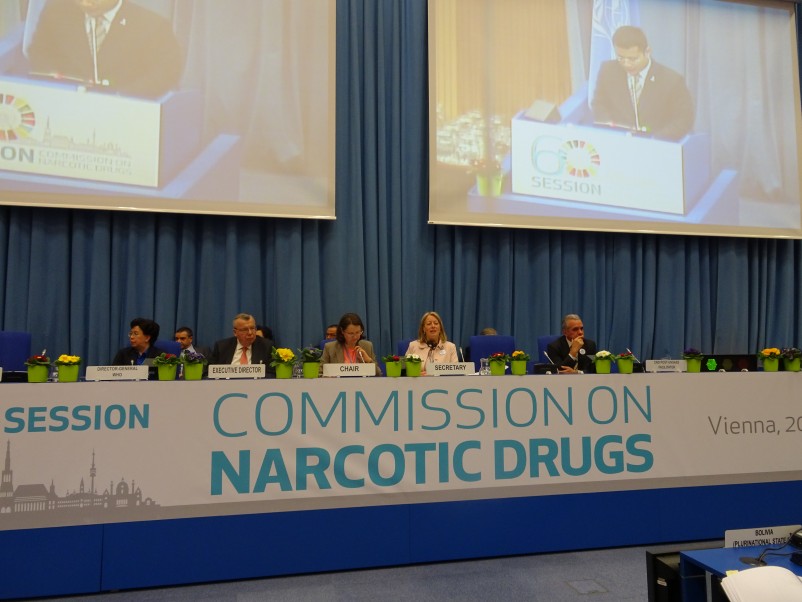 The Commission on Narcotic Drugs (CND) was established by Economic and Social Council (ECOSOC) resolution 9(I) in 1946 to assist the ECOSOC in supervising the application of the international drug control treaties. In 1991, the General Assembly (GA) expanded the mandate of the CND to enable it to function as the governing body of the UNODC. ECOSOC resolution 1999/30 requested the CND to structure its agenda with two distinct segments: a normative segment for discharging treaty-based and normative functions; and an operational segment for exercising the role as the governing body of UNODC.
Executive Protection course in South Carolina between 9-15 April 2017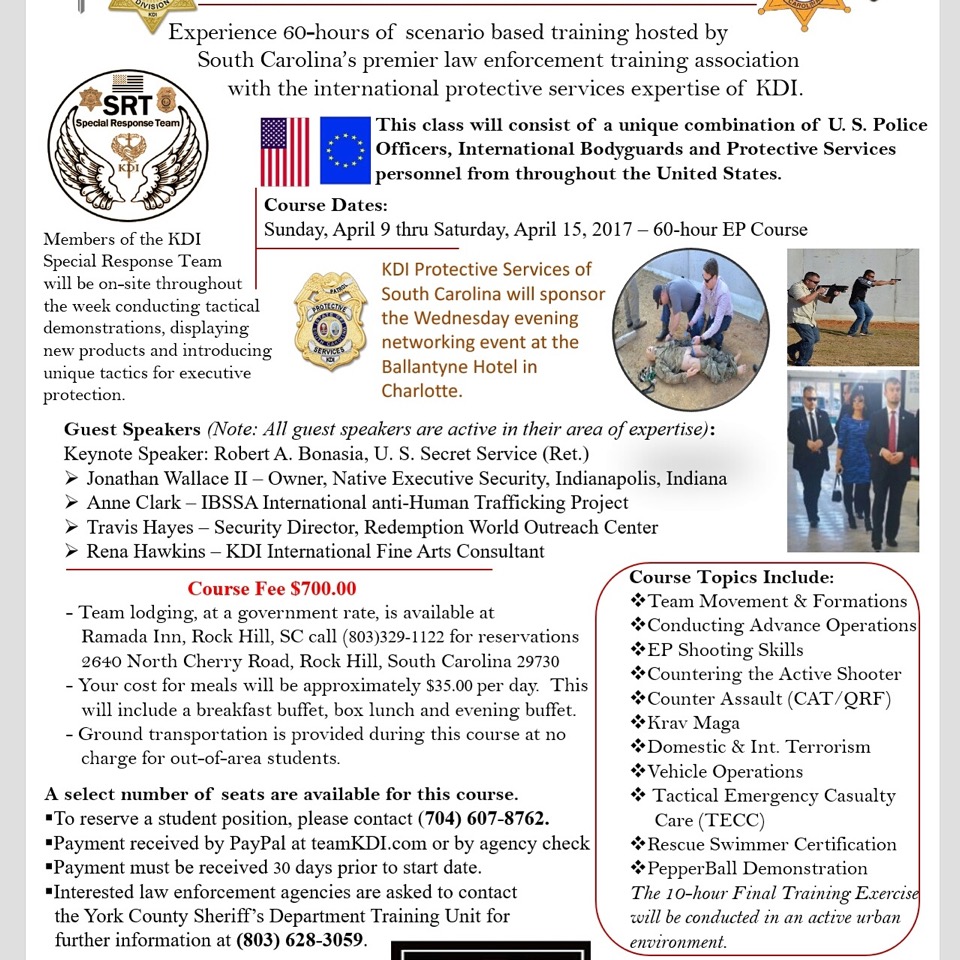 ---